If you're a regular reader of The Mogul Mom, then you likely read the article entitled 10 Multiple Income Streams You Can Create. In it, we referenced affiliate marketing as one of the ways to generate passive income:

"Become an affiliate – If you have a blog or website, you can join affiliate programs and set up affiliate links to different products and services on the web. When someone signs up through your affiliate link, you get a small cut of their advertising revenue. That can add up if you get a lot of affiliate sales, and you don't have to do any of the work to produce physical and digital products."

Exactly right. I've been a full time affiliate marketer for over a decade. There are two main ways to "attack" affiliate marketing. The first is to create a website based solely around selling affiliate products (for example, I own Prepaid Reviews, a site that reviews prepaid cell phone carriers – some affiliate, some not, with the goal being to generate revenue from folks looking for information before deciding which prepaid phone to buy). The second, and the one I'm going to discuss here today, is using your generally themed blog to affiliate for products relevant to your target audience.



What is affiliate marketing?
Someone once came up with a description of affiliate marketing that I've been a fan of ever since. Affiliate marketing is selling stuff you don't own to people you don't know. If you're new to the concept, here's how it works:

Click here to view a larger version.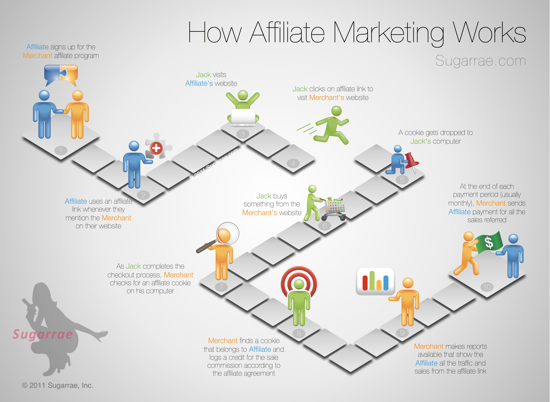 [Image provided courtesy of the Sugarrae affiliate marketing blog.] 

If you own a blog, you can use your blog to make your readers aware of products that would be relevant to them, earning a commission whenever they make a purchase from following your link. Most people typically do this by featuring ads on their sidebars. But I've found that the most successful way to do this – in my experience – is via product reviews.



Finding relevant products
So now you may be asking what I mean by "relevant products." Relevant products are products that the target audience of your blog may find interesting. For example, my personal blog, Sugarrae, focuses on SEO and affiliate marketing. So my readers find reviews about WordPress themes (like DIY Themes and StudioPress) along with various other products along these lines to be relevant to what they're looking to learn from my blog. The products you choose should be directly (and even indirectly) related to what your blog audience is looking for.


Need an example? I'll pretend for a moment I own The Mogul Mom. Most of us reading this blog are moms running our own businesses. I recently had my fourth baby and found that in the months leading up to his birth, I was looking for a lot of information on baby monitors (I ended up buying the a video monitor set by Summer). As a work at home mom, I need to be at the computer when he's napping.

Many moms continue having children after they become business owners and learning to balance caring for a new baby while getting work done can be a challenge. Reviewing a product that serves as a tool for achieving this balance on a blog targeting moms who run businesses makes perfect sense. In this case, the product is indirectly relevant to The Mogul Mom audience.



Crafting the Review
First and foremost, ALWAYS be honest in your reviews. In my experience, stating the negative aspects of a product (if any) doesn't prevent you from making sales. If anything, it shows the reader that your review is authentic and that they can trust what you're saying about it. No product is perfect and no one really expects it to be. What they want is an honest overview. If the product isn't more overall good than bad, I simply won't recommend it and/or take the time to write the review.

When doing product reviews, trust is the most important asset your blog can have. Never sell out that trust for a twenty dollar (or two hundred dollar) product commission.

Your product reviews will generally make money in one of three ways. From regular visitors to your blog, from folks who find your review to be helpful and send the link to friends (usually via social media channels) and the search engines. Tons of people type "[product name] review" into search engines.

So in the case of the above baby monitor, I'd detail out all the relevant product information, and then say what I liked about it (the two monitors makes it easy to leave one at my desk and use the other for moving around the house, etc) and what I didn't like about it (the video can get lines and the audio will make an occasional clicking sound from interference – which is apparently from sitting next to two giant Mac computers, etc) and then I'd explain whether I'd recommend the product overall (I would in this case) and why.

I'd also include a few pictures (or screenshots if the product or service is digital) showing my use of it. Pictures are not only helpful to the reader, but they also show people that you actually own the product unlike the tons of places that "review" products they've never used themselves.

Also, due to recent FTC guidelines, if you're going to do affiliate product reviews on your blog, you'll need to add a disclosure letting readers know that you are. I have a disclosure page on my site linked from the header on every page on my site. However, you may want to word yours a bit more professionally.



Moderation is key
Almost no one wants to read a blog that is nothing but reviews – even if those reviews are highly relevant. Make sure that you space the reviews out between posts that are the typical posts your readers like to see on your blog.


Have you had any experience making money with product reviews? Tell us about it in the comments.
Rae Hoffman-Dolan aka "Sugarrae" is an affiliate marketing veteran and an (extremely) occasional SEO consultant specializing in SEO audits and link building strategies. She is also the author of the often controversial Sugarrae blog and the co-owner and SVP of Marketing for Speedy Incorporation Service.
Latest posts by Rae Hoffman-Dolan (see all)